Transition with Joy
In the coming weeks we commemorate Thầy's passing with gratitude for the happy, healthy sangha that is Thầy's legacy. Join Deer Park for a special one-year anniversary memorial on January 8, 2023. Other centers in the International Plum Village community will also commemorate Thầy's passing in a number of ceremonies—corresponding to the Lunar and Solar calendars—, some of which will be online. Subscribe to our global newsletter, the Raft, for more details.
The Lunar New Year follows, and we welcome you to join us for the Ceremony of Raising the Flag, New Year's Eve and Kiều Oracle Reading on Lunar New Year's Day. We hope that you and your family have many chances to nourish the joy of a child, the wonder of what we can be, and the transmission of wisdom embodied as a community together throughout the winter season and transitions.
Recap of the Holiday Season at Deer Park
In November, we honored our land ancestors in the Thanksgiving Day talk, followed in early December with a Peace Hike to build community and raise funds for the new monks' building. Over 400 people attended—many coming for the first time—with refreshed eyes, energized steps, and a wide range of physical abilities—toddlers walking alongside elderly sangha members aided with hiking sticks. Uncles and aunties from the local sangha donated car loads of homemade bánh mì, salty lemonade, and potted succulents. Monks offered calligraphy on-demand, and hundreds of monastic-created arts filled the fundraising tables: candles, handmade cards, books, and paintings. The hike was a great success and we are very grateful to you for helping us to raise $50k in donations from this event.
On Dec 18, the Rains Retreat closed with the Pravāraṇā Ceremony and an inspiring Dharma talk from Br. Pháp Dung—on training ourselves to predict a good future by living beautifully in the present moment, taking care of our relationships and finding a good environment in which to practice.
After a few Lazy Days, the monastery welcomed over 250 friends for a joyful Christmas Eve with a potluck and Be-In.
May you awaken to each day with love and understanding,
The Monastics of Deer Park Monastery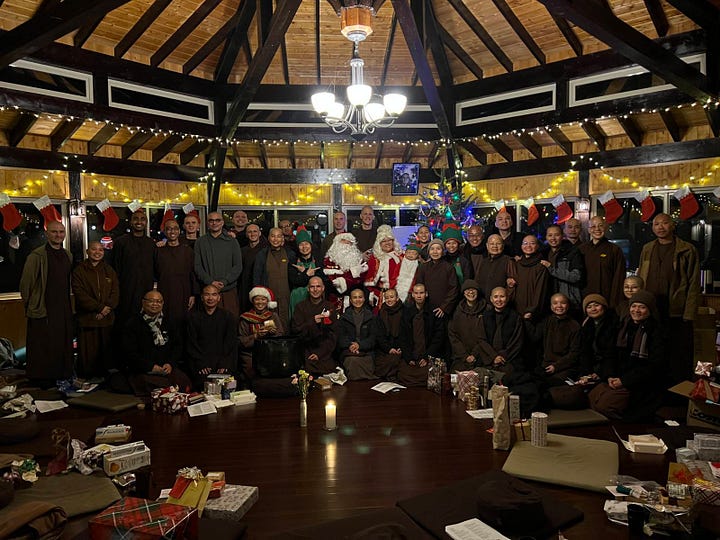 ---
Open the Source of Love
Sister Snow offered this beautiful Dharma talk on confidence, learning how to be ourselves, and taking care of relationships with the people around us.
Continuing after Suicide Loss
Brother Minh An (Br. Peace) reflects on losing both his parents to depression and grief as a beautiful path of awakening.
An Old Home in a New Land
Brother Minh Luong (Br. Generosity) shares a page of his journal from the time he spent at Plum Village Thailand this year, feeling connected to the ancient stream of teachers and witnessing the aliveness of the dharma in the present setting.
Upcoming Events
Jan 8 - A special one-year memorial day for Thầy. Registration opens on Dec 27.
Jan 15 - Raising the flag ceremony to welcome the Lunar New Year
Jan 21 - An Evening of Mindfulness with a Be-in to welcome the Year of the Rabbit
Jan 22 - Kiều Oracle Reading for questions deep in your heart
Feb 19-25 - Hiking Retreat. Application opens on Dec 8.
April 2-8 - Wake Up Retreat
Look out for fundraising events coming this spring: Day of Dana (March 26), Rhythm of the Earth Mindful Music Festival (April 15) and a 5-day online Sangha-building course with Br. Pháp Dung.
Hemera Fellowships
Deer Park Monastery now offers Hemera Foundation grants to financially support those in certain service fields attend in-person retreats.
Healing Song From the Heart
Thanks for reading Coyote Tracks! Subscribe for free to receive new posts and support my work.